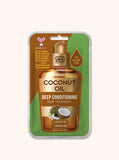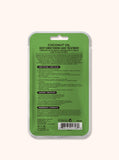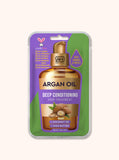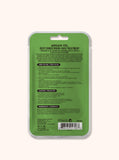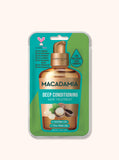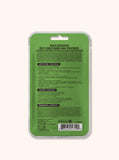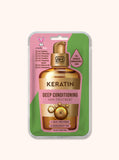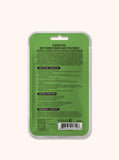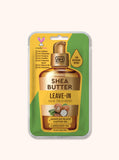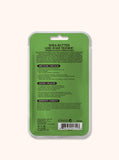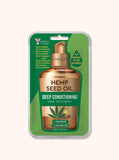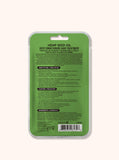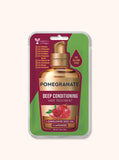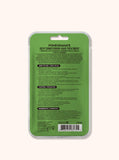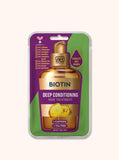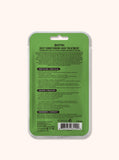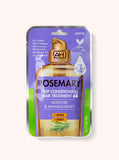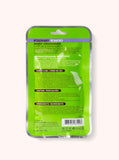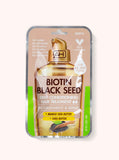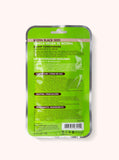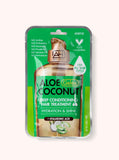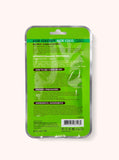 Hair Treatment (Sample Pack)
Give your hair some TLC with a nourishing hair treatment formulated with proteins and naturally derived oils, and experience your fingers running through softer, healthier hair. 1-3 uses!
Coconut Oil: improves scalp health by minimizing itchiness and inflammation associated with dandruff; moisturizes cuticles from within for strong, manageable hair.
Jamaican Black Castor Oil: strengthens damaged/stressed hair and stimulate hair growth
Argan Oil: locks in moisture and acts as a protectant from heat, UV rays, and environmental damage
Macadamia Oil: reduces oxidative stress on the scalp and rebuilds follicles for thicker hair and less breakage
Keratin: repairs cuticles and minimizes damage from dryness, heat, coloring, and chemical treatments; improves elasticity and creates protective coating to retain moisture and shine
Shea Butter: locks in moisture, stimulates circulation in the scalp, tames frizz and acts as a protectant from heat and environmental damage

Rosemary: Locks in moisture and helps to keep hair more manageable after each use for all hair types

Biotin Black Seed: Helps to deep condition hair for long lasting moisture and long-term repair to damaged hair

Aloe Coconut: Formulated with hyaluronic acid, helping to keep hair hydrated and a shiny finish
Sulfate-Free, Phthalate-Free, Paraben-Free
Also free of Propylene Glycol, Mineral Oil, & Petrolatum
Shampoo, rinse, and towel-dry hair.
Apply generous amount of treatment and massage throughout damp hair.
Leave on for 1-3 minutes. For deeper conditioning, leave on for up to 10 minutes (wrap hair in a heat or plastic cap, or hot towel for optimal nourishment)
Rinse thoroughly (for all except Shea Butter)
* Use 1-2 times a week or as needed.
For external use only. Avoid contact with eyes.
If swallowed, consult a physician immediately.
Keep away from fire and extreme heat.
Keep out of reach from children.
Customer Reviews
Write a Review
Ask a Question
Filter Reviews:
thick
conditioner
shampoo
hair mask
hair
mask
02/24/2021
Mary R.

United States
Macadamia Oil Hair Sample Pack
This hair mask is great and I highly recommend it. I use this mask after using my shampoo and conditioner and it makes my hair feel silky and soft. It works well in my thick, curly, and dry hair.
01/22/2021
Flor V.

United States
Todo bien gracias y a tiempo
Good i like
From a license professional to you
This product is absolutely great and will be recommended.
Jamaican Castor Oil Peppermint Mask is Bomb!
So I picked this gem up at a beauty supply and thankfully I did!! When I washed my hair and used this conditioner my hair felt soo good! So soft! So refreshed! My scalp was tingling and breathing in the fresh air it felt like!! So I'm like... Let me use this on my grandma. My grandma hasn't washed her hair in a long while. She made 80 this year. While her hair wasn't that dirty, she still loved this product and enjoyed getting her hair washed!! It made her hair curl up!! She has thin hair so we are hoping that it'll strengthen her hair too besides making it smell good and feel good. But she loved it. So today I'm washing my mas hair and shes like I have conditioner... I'm like No ma. I have conditioner!!! She's sitting right next to me as I write this review with a cap on her hair, deep conditioning. Tomorrows her and my dads anniversary. Anyway.. Shes like where did you get this from lisa:joy: :smirk: Im feeling like a boss introducing this product to the women in my family. So we tried to look up a full bottle instead of just the sample pack and it lead me here. My ma is on the phone with my grandma right now telling her how she's about to get her hair done and how I used this conditioner and that it feels amazing.. And my grandma was like and I qoute " na na ni na na Jelisa used it on me first name!" I am cryying. So yes!! We love this product! Thank you!! Please come out with a full bottle because we need that!
Loveeeee! Best deep conditioner OUT
I love this! It left my dry hair very silly. I have damage hair due to color treatments and this is far by the best my hair had. It left my hair very soft and nourished.
It works beautifully in my
It works beautifully in my hair. I lost a lot of hair last year due to illness and I've been spending a lot on trying to fix the issue. This is the only stuff that has helped calm the wispy hairs growing back.
Love!
My hairs very damaged from color & chemical treatments. I tried the Keratin mask on my damp hair and I love everything about it! It smells wonderful and it definately nourished my hair to feel softer and healthier. Love that it's also in a trial pack but I'd like a full size!