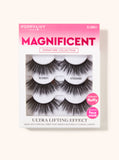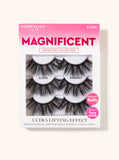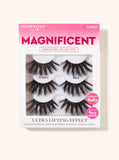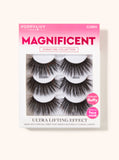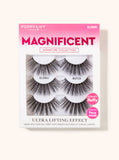 Magnificent 10D Lash Multipack
Magnificent 10D Lashes.  10 extra dimensional layers of uniquely crisscrossed lashes for the fluffiest, voluminous look.

Drama doesn't mean you have to suffer with heavy lashes.  These premium faux mink lashes are luxuriously full without the look and feel of bulky, over-done lashes. 
Designed with a flexible band that blends with your lashes and lash-line to look as natural as glam lashes can possibly look.  
False Lashes
Length of Lash Hairs

Length of Lash Band

Fan [ELSL01]

8 - 18 mm
34.5 mm

Flirt [ELSL02]

12- 18 mm
33 mm
Parallel 

[ELSL03]

8 - 16 mm
37 mm

Stacked [ELSL04]

10 - 16 mm
35 mm
Queen 

[ELSL05]

8 - 18 mm
36 mm

Solo [ELSL06]

6 - 16 mm
35 mm
Manifest 

[ELSL07]

8 - 20 mm

36 mm

Match [ELSL08]

10 - 16 mm

34 mm

Wild [ELSL09]

10 - 18 mm

27 mm

Boss [ELSL10]

8 - 16 mm

35 mm
1. If needed, trim lash band to desired length

2. Apply Absolute Lash Adhesive to lash band and wait 20-30 seconds
3. Place lash along your natural lash line
How to remove lashes
1. Carefully peel off lash band starting from the outer corner
2. For future re-application, remove excess adhesive from lash and place back onto tray
Caution for lashes
1. Do not apply adhesive directly to eyelid
2. Keep away from the reach of children