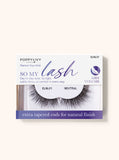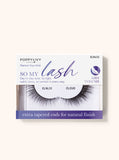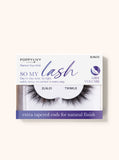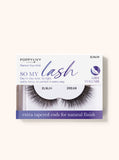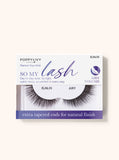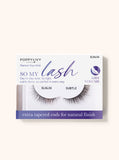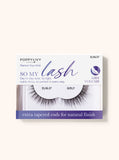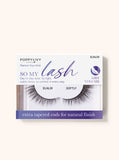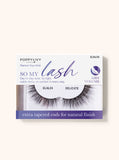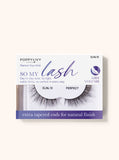 So My Lash
Soft, Flirty, Airy.  Our heaven sent So My Lash Collection has arrived.
These premium faux mink lashes are our airiest, lightest lash that are perfect for day to day wear.  They provide the most subtle glam effect with extra tapered ends for the most natural finish.
Perfect for those that are looking for just a touch of glam and a natural boost to an everyday eye look.  Choose from 10 airy styles and discover the one that will have you saying #SoMyLash.
False Lashes
Length of Lash Hairs

Length of Lash Band

Neutral [ELNL01]
6 - 14 mm
35.5 mm

Cloud [ELNL02]

5 - 14 mm
34 mm

Twinkle 

[ELNL03]

5 - 16 mm
35 mm

Dream 

[ELNL04]

6 - 13 mm
34 mm

Airy 

[ELNL05]

6 - 14 mm
34.5 mm

Subtle 

[ELNL06]

4 - 12 mm
33.5 mm

Girly [ELNL07]

9 - 12 mm

35 mm

Softly 

[ELNL08]

7 - 14 mm

35.5 mm

Delicate 

[ELNL09]

7 - 15 mm

35 mm

Perfect 

[ELNL10]

6 - 12 mm

34 mm
1. If needed, trim lash band to desired length

2. Apply Absolute Lash Adhesive to lash band and wait 20-30 seconds
3. Place lash along your natural lash line
How to remove lashes
1. Carefully peel off lash band starting from the outer corner
2. For future re-application, remove excess adhesive from lash and place back onto tray
Caution for lashes
1. Do not apply adhesive directly to eyelid
2. Keep away from the reach of children