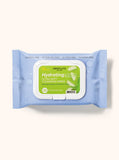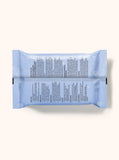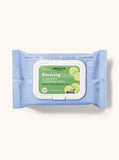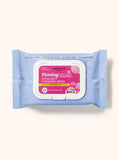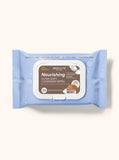 Ultra Soft Cleansing Wipes
Remove waterproof makeup, cleanse and tone in seconds.
Our newly formulated Ulta Soft Cleansing Wipes thoroughly removes waterproof face and eye makeup without irritating or stripping the skin of its natural oils, leaving a fresh and revived feeling.
Designed with a resealable top and a pack of 35 for convenient cleansing on the go – keep fresh at any time, any place.
Available in 4 skin-loving formulas
Hydrating Aloe Vera
Reviving Cucumber
Firming Collagen
Coconut 
Made in Korea
Cruelty Free & Vegan
Free of Parabens, Sulfates, Phthalates, & Gluten
Lift seal to remove tissue. Gently wipe face and eyes to remove makeup and use the other side as needed. Close the seal to retain the moisture of the towelettes.
Hydrating Aloe Vera: Water (Aqua), Dipropylene Glycol, Glycerin, Alcohol, Cocamidopropyl Betaine, PEG-7 Glyceryl Cocoate, Ceteareth-12,Ceteareth-20, Cetearyl Alcohol, Sodium Benzoate, Glyceryl Stearate, Cetyl Ethylhexanoate, Aloe Vera Leaf Extract, Camellia Sinensis Leaf Extract, Phenoxyethanol, Allantoin, Trehalose, Citric Acid, Polysorbate 20, Fragrance, Hamamelis Virginiana (Witch Hazel) Extract, Disodium EDTA
Reviving Cucumber: Water (Aqua), Dipropylene Glycol, Glycerin, Alcohol, Cocamidopropyl Betaine, PEG-7 Glyceryl Cocoate,Ceteareth-12, Ceteareth-20, Cetearyl Alcohol, Sodium Benzoate, Glyceryl Stearate, Cetyl Ethylhexanoate, Cucumis Sativus (Cucumber) Fruit Extract, Camellia Sinensis Leaf Extract, Phenoxyethanol, Allantoin, Trehalose, Citric Acid, Polysorbate 20, Fragrance, Hamamelis Virginiana (Witch Hazel) Extract, Disodium EDTA
Firming Collagen: Water (Aqua), Dipropylene Glycol, Glycerin, Alcohol, PEG-7 Glyceryl Cocoate, Ceteareth-12, Ceteareth-20, Cetearyl Alcohol, Sodium Benzoate, Cocamidopropyl Betaine, Glyceryl Stearate, Cetyl Ethylhexanoate, Olea Europaea (Olive) Fruit Oil, Vitis Vinifera (Grape) Seed Oil, Helianthus Annuus (Sunflower) Seed Oil, Hydrolyzed Collagen Extract, Camellia Sinensis Leaf Extract, Phenoxyethanol, Allantoin, Trehalose, Citrus Limon (Lemon) Fruit Extract, Citric Acid, Fragrance, Prunus Armeniaca (Apricot) Kernel Oil, Disodium EDTA    
Coconut:  Water, Propylene Glycol, Dipropylene Glycol, Glycerin, Alcohol, Cocamidopropyl Betaine, PEG-7 Glyceryl Cocoate, Cocos Nucifera (Coconut) Fruit Extract, Ceteareth-12, Ceteareth-20, Cetyl Ethylhexanoate, Cetearyl Alcohol, Sodium Benzoate
Glyceryl Stearate, Phenoxyethanol, Olea Europaea (Olive) Fruit Oil, Vitis Vinifera (Grape) Seed Oil, Helianthus Annuus (Sunflower) Seed Oil, Hydrolyzed Collagen Extract
Camellia Sinensis Leaf Extract, Aloe Vera Leaf Extract, Cucumis Sativus (Cucumber) Fruit Extract, Allantoin, Trehalose, Citrus Limon (Lemon) Fruit Extract, Citric Acid, Fragrance
Polysorbate 20, Prunus Armeniaca (Apricot) Kernel Oil, Disodium EDTA, Hamamelis Virginiana (Witch Hazel) Extract