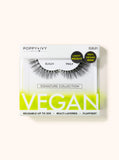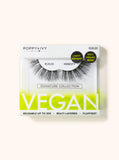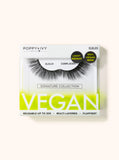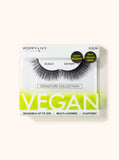 Vegan Mink Lash
The only thing we love more than animals?  Fluffy, full Vegan Mink Lashes.
What is vegan mink?  This lash feels as light and fluffy as actual mink without touching a hair on our cute, cuddly friends.  We're able to achieve intense volume without the heaviness.
Each lash can be used up to 30 times as they are carefully crafted with the utmost quality.  
| | | |
| --- | --- | --- |
| False Lashes | Length of Lash Hairs | Length of Lash Band |
| Truly [ELVL01] | 6 - 16 mm | 32.5 mm |
| Honesty [ELVL02] | 10- 16 mm | 32.5 mm |
| Complacent [ELVL03] | 8 - 18 mm | 34 mm |
| Victory [ELVL04] | 10 - 16 mm | 35 mm |
| Candid [ELVL05] | 10 - 15 mm | 33 mm |
1. If needed, trim lash band to desired length

2. Apply Absolute Lash Adhesive to lash band and wait 20-30 seconds
3. Place lash along your natural lash line
How to remove lashes
1. Carefully peel off lash band starting from the outer corner
2. For future re-application, remove excess adhesive from lash and place back onto tray
Caution for lashes
1. Do not apply adhesive directly to eyelid
2. Keep away from the reach of children