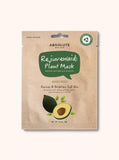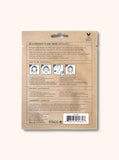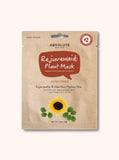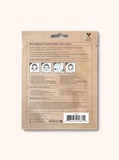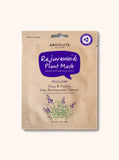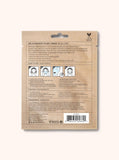 Rejuven Aid Plant Mask
Pamper your skin with potent, iconic herbs that have been used throughout history to treat and protect the natural skin barrier. Our biodegradable cotton-thread masks are enriched with all-natural ingredients, to comfortably fit the contours of the face for maximum absorption, adhesion, and repair. Just 20 minutes of self-care with a sheet mask is all you need to make your skin happy!
Avocado (Dull): Avocados are known for their rich, "good" fats, which are not only great to eat but great to apply topically to the skin to boost overall skin health.
Removes dead skin cells, unclogs pores, and exfoliates from within the skin
Nourishes & moisturizes from within, to impart a natural glow and keep skin soft & supple
Reduces inflammation, irritation, redness, dryness
Protects from free radical damage to support healthy skin
Sunflower (Mature, Aging Skin): Sunflowers are potent, yet gentle enough to improve your natural skin barrier, for younger, healthier, brighter skin.  
Soothes & treats inflammation, dryness, & skin conditions
Improves skin barrier by retaining moisture & encouraging the development of new skin cells
Protects & fights against bacteria & environmental stressors
SkullCap (Loss of Firmness): Skullcap Root Extract is rich in antioxidants and anti-inflammatory properties to give an overall brighter and more youthful-looking complexion, by combatting damage from UV rays, environmental stressors, and by acting as a cellular regenerator to increase firmness and elasticity.
Soothes and evens skin tone
Reduces inflammation and breakage of DNA
Restores firmness and elasticity
Protects from free radical damage to support healthy, youthful skin
Cleanse face and pat dry.
Unfold mask and smoothly align with facial features for best adhesion.
Leave on for 10-20 minutes.
Remove mask and gently massage remaining essence onto face and neck until fully absorbed.
* Tip: Keep masks in the fridge for a cooling effect.
For external use only. Avoid contact with eyes or broken skin.
Discontinue use if signs of irritation or rashes appear.
Keep out of reach of children.
Keep away from extreme heat or direct sunlight.
Avocado
AQUA, PROPANEDIOL, 1,2-HEXANEDIOL, HYDROXYACETOPHENONE, ARGININE, CARBOMER, PHENOXYETHANOL, ALLANTOIN, GLYCERIN, DIPOTASSIUM GLYCYRRHIZATE, SODIUM PHYTATE, POLYGLYCERYL-10 LAURATE, POLYGLYCERYL-10 MYRISTATE, GLYCERETH-26, ERYTHRITOL, PARFUM, DIPROPYLENE GLYCOL, SODIUM HYALURONATE, BUTYLENE GLYCOL, GLYCERYL ACRYLATE/ACRYLIC ACID COPOLYMER, PSIDIUM GUAJAVA FRUIT EXTRACT, PVM/MA COPOLYMER, CITRUS GRANDIS PEEL  EXTRACT, PERSEA GRATISSIMA FRUIT EXTRACT
Sunflower
AQUA, PROPANEDIOL, 1,2-HEXANEDIOL, HYDROXYACETOPHENONE, ARGININE, CARBOMER, PHENOXYETHANOL, ALLANTOIN, GLYCERIN, DIPOTASSIUM GLYCYRRHIZATE, SODIUM PHYTATE, POLYGLYCERYL-10 LAURATE, POLYGLYCERYL-10 MYRISTATE, GLYCERETH-26, ERYTHRITOL, PARFUM, DIPROPYLENE GLYCOL, BUTYLENE GLYCOL, SODIUM HYALURONATE, GLYCERYL ACRYLATE/ACRYLIC ACID COPOLYMER, PVM/MA COPOLYMER, LILIUM TIGRINUM EXTRACT, HELIANTHUS ANNUUS EXTRACT, ARGANIA SPINOSA KERNEL EXTRACT
Skullcap
AQUA, PROPANEDIOL, 1,2-HEXANEDIOL, HYDROXYACETOPHENONE, ARGININE, CARBOMER, PHENOXYETHANOL, ALLANTOIN, GLYCERIN, DIPOTASSIUM GLYCYRRHIZATE, SODIUM PHYTATE, POLYGLYCERYL-10 LAURATE, POLYGLYCERYL-10 MYRISTATE, GLYCERETH-26, ERYTHRITOL, PARFUM, DIPROPYLENE GLYCOL, SODIUM HYALURONATE, BUTYLENE GLYCOL, GLYCERYL ACRYLATE/ACRYLIC ACID COPOLYMER, PVM/MA COPOLYMER, ORIGANUM VULGARE LEAF EXTRACT, CHAMAECYPARIS OBTUSA LEAF EXTRACT, SALIX ALBA BARK EXTRACT, LACTOBACILLUS/SOYBEAN FERMENT EXTRACT, PORTULACA OLERACEA EXTRACT, CINNAMOMUM CASSIA BARK EXTRACT, SCUTELLARIA BAICALENSIS ROOT EXTRACT